Transfer patients safely and securely in the Mobile PatientLift.
The mobile patient lift helps you transfer patients with mobility impairment without putting yourself at risk.
Providing secure and dependable assistance for caretakers
Caretakers understand the value of safe and reliable equipment for their patients. Professional caretaking is a rewarding and respectable career; assistive devices must hold up to the task. However, caretaking involves transferring patients with limited mobility around homes or hospitals, where the job can become difficult for caregivers' physical health. In addition, many facilities aren't designed for the bulky and cumbersome equipment typically used for patient transfers. So how should caregivers transport patients while supporting the physical health and the well-being of the people who trust them the most?
The Freedom Transfer Patient Lift answers those crucial questions in the best way possible: with caregivers and patients in mind. Make your work a little more manageable by removing the risks to your physical well-being.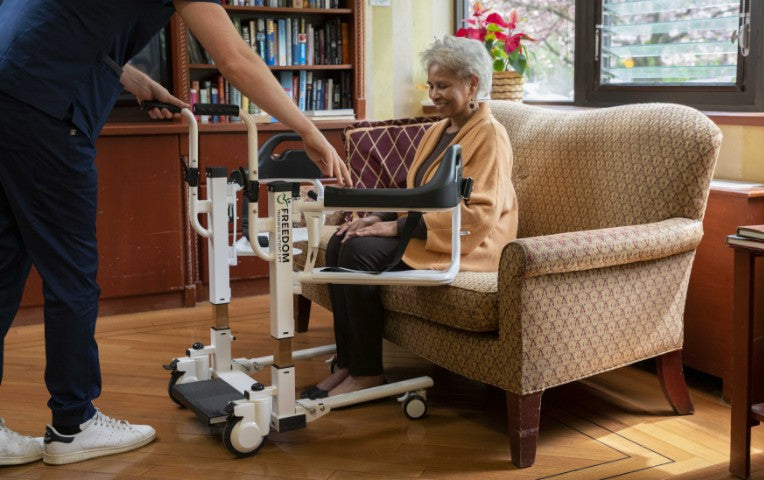 Reduce the risk of injury
The Freedom Transfer Patient Lift is lightweight and portable. It was designed to cater to safety and comfort, so caretakers can transport patients without maneuvering heavy machinery.
Designed for Caregivers and Patients
Our portable design works well for care facilities, patient homes, and hospitals. It provides a way to quickly move patients to different areas of any building to receive medical care or take part in recreation.
Easy to Use
The Freedom Transfer Patient Lift is ready to use without extensive training, meaning most caretakers can use it out of the box. It allows them to spend less time training and more time building relationships with their patients.
More Features of the Mobile PatientLift
Motorized and remote-controlled
Get where you need to go with or without assistance. You can decide how you want to travel in this chair depending on your needs.
Tool-free setup
It's ready to use right out of the box. It's easy for most people to get started in minutes.
Multi-purpose use
Besides being a transfer device, it can also be used as a commode. Patients can use the toilet while remaining in the lift.
Quality Guaranteed
Rest assured with a one-year warranty on the frame structure.
Adjustable handles
The height can be adjusted to accommodate caretakers of varying sizes.