Regain your independence with the Freedom PatientLift
This mobile patient lift allows people with limited mobility to move around their home without putting themselves at risk.
Are you a person with limited mobility?
Here's what you need to know:
There are many lifts on the market for people with limited mobility, but the most popular are sling-based patient lifts. If you've ever used one, you won't be surprised to hear that they don't offer the best experience. When you're trying to get around, whether on your own or with a caretaker, you deserve effective equipment to help you maneuver safely. Unfortunately, most popular transfer devices offer mobility with a slew of caveats: they're uncomfortable, lead to caregiver burnout or injury, and are ultimately poorly designed.
Removing Risk of Injury
The end goal of those devices is to get you from point A to point B by any means necessary. While that works for fully immobile patients, it might cause more harm than good if you are suffering from limited mobility.
The Freedom Transfer Patient Lift provides mobility aid in a carefully designed, easy-to-use motorized chair. It removes the risk of injury that often comes with patient lifts and replaces it with comfort and utility.
Keep your independence with our Mobile Patient Lift
The Freedom Transfer Patient Lift is a patient transfer device that provides a convenient and secure way to transport patients and bedridden people with limited mobility around their homes or care facility. It's highly versatile, durable, comfortable, and explicitly designed for users like you: people with limited mobility. In addition, it can help you keep your independence by allowing multiple methods of control from you or your caregiver.
Unrestrictive design
Being hoisted up into the air and wrapped up in a sling can be a harrowing experience. Our design factors in comfort and peace of mind, allowing for travel in a chair instead of a sling.
Excellent choice for both home and hospital care
Get around for appointments, to eat dinner, or almost anywhere else your standard wheelchair will go. The Freedom Patient Lift is portable and lightweight, giving you access to places a traditional lift won't go.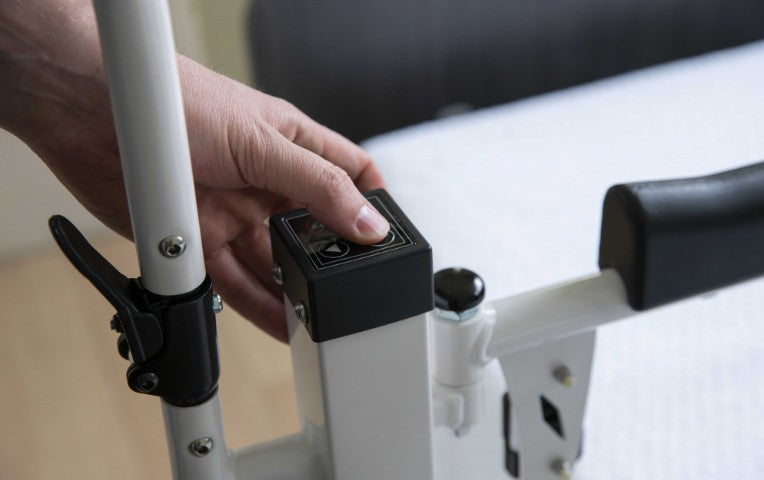 Motorized and remote-controlled
Get where you need to go with or without assistance. You can decide how you want to travel in this chair depending on your needs.
More Features of the Mobile PatientLift
Adjustable sizing
The height can be adjusted to accommodate individuals of varying sizes. It can also adapt to factor in the heights of your desired destination.
Medically sound
The thoughtful, lightweight design lowers the risk of you falling and injuring yourself.
Multi-purpose use
Besides being a transfer device, it can also be used as a commode. Patients can use the toilet while remaining in the lift.
Quality Guaranteed
Rest assured with a one-year warranty on the frame structure.
Tool-free setup
It's ready to use right out of the box. It's easy for most people to get started in minutes.
Easily fold and store
It fits easily into most storage spaces, saving room and making for easy stowing.